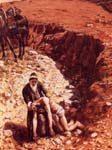 Loving Others is the Second Great Commandment
---
And the second [is] like, [namely] this, Thou shalt love thy neighbour as thyself. There is none other commandment greater than these.
---
"Unless there is a practical self-sacrifice for the good of others, in the family circle, in the neighborhood, in the church, and wherever we may be, then whatever our profession, we are not Christians."
The Desire of Ages, page 509
The statement found in 1 John 3:18 "My little children, let us not love in word, neither in tongue; but in deed and in truth." KJV or from the NIV, "Dear children, let us not love with words or tongue but with actions and in truth." helps us to understand our responsibility.  Doing, and not merely saying, is what is expected of those who want to be like Christ (those who want to be a Christian).
 
If we do not resist, Jesus will make us into real Christians.